Automatic Duplex Gang Slitter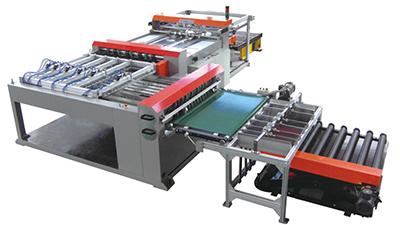 This automatic duplex gang slitter is specially designed equipment for slitting tinplate with high precision. It is excellent ancillary equipment for high speed resistance welding machines and is perfect for can-making operations. The machine is controlled by three sets of servo motors which have been manufactured by a trusted brand. The machine offers the advantages of high automation, precision, flexible slitting parameters, and it features an easy to use touch screen. Its circular knives are products from a hard alloy that adds to its slitting precision and extends its working lifetime.
Technical Specifications
| | |
| --- | --- |
| Slitting speed | 32piece/min |
| Sheet width | 600~1200mm |
| Sheet thickness | 0.15~0.5mm |
| Slitting diagonal tolerance | ≤0.05mm |
| Max 1st slitting quantity | 6 strips |
| Max 2nd slitting quantity | 12 strips |
| Number of cutter | 1st: 5 pairs, 2nd: 8 pairs |
| Total Power | 10KW |
| Dimension (L×W×H) | 6650×3800×1600mm |
| Compressed air | 0.6MPa, 12 L/min |
XinQing specializes in manufacturing and supplying can making lines and individual machines for the production of two-piece cans and three-piece cans. We are able to provide tailor-made can making equipment specific to your various applications in metal packaging and canning equipment industries. The range of our products not only the can making machine for food cans, beverage cans and aerosol cans, but also comprehensive turnkey solution. We are keen on working with customers who are looking for can making solutions to increase their productivity while reducing labor cost.