Automated powder-coating machine for weld seam protection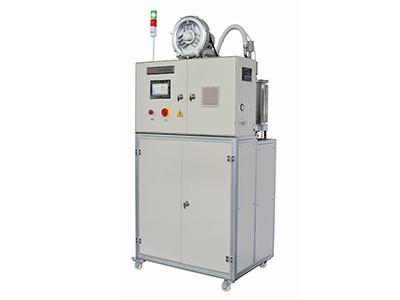 The PC-08A automated powder-coating machine is designed to effectively protect the weld seam to ensure can quality. It uses a stable airflow to spray materials from the spray gun. These powdered materials evenly adhere to the welding seam thanks to an outstanding static effect, forming a protective layer to isolate the product from the welding seam after high temperature curing.
Production Samples
Features
The filter inside the PC-08A automated powder-coating machine provides a timed automatic cleanup function.
The powder flow, the coating width and coating thickness are all easily adjusted.
The specially designed powder supplying, conveying, and recycling system ensures an even spraying and reliable powder recycling.
The specially designed powder charging channels significantly improve the electric charge effect and powder adhesive force.
This machine is an intelligent piece of equipment that will not spray if there is no can. It will intelligently monitor the material quantity inside the powder bucket, and when there is not enough powder, will automatically supply more.
It features an easy to operate human to machine interface.
Technical Specifications
| | |
| --- | --- |
| Conveying Speed | 75m/min |
| Coating Width | 8-16mm |
| Applicable Can Diameter | 52-400mm |
| Electrical mains | AC220V, 50Hz, 2.5kw |
| Air pressure & consumption | 0.6Mpa, 100L/min |
XinQing specializes in manufacturing and supplying can making lines and individual machines for the production of two-piece cans and three-piece cans. We are able to provide tailor-made can making equipment specific to your various applications in metal packaging and canning equipment industries. The range of our products not only the can making machine for food cans, beverage cans and aerosol cans, but also comprehensive turnkey solution. We are keen on working with customers who are looking for can making solutions to increase their productivity while reducing labor cost.