LT-A Series in-line can leakage tester for aerosol can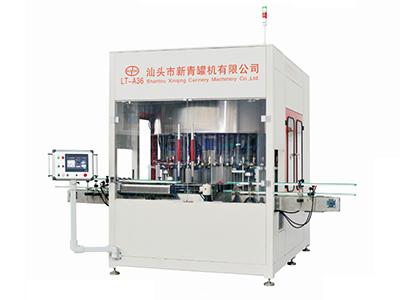 The in-line can leakage tester transfers empty cans into the hermetic test chamber where both can interior and exterior will be insulated. Empty cans will then be filled with compressed gases, with the inner pressure reaching 8-12 bars, while exterior pressure remains normal. Any small leaks that lead to pressure changes in the hermetic test chamber will be detected using a pressure sensor. If the pressure change exceeds a designated value, the empty can will be rejected as defective. In doing so, we are able to control can quality and performance, ensuring only those that are qualified will be sent further down the production line.
Features
Highly precise pressure sensor
Intelligent control system
Excellent fatigue resistant can pulling claw
Highly reliable hermetic system with a long service life
Pressure difference detection
Non-destructive online testing
Digital display
Quick and easy tool change for manufacturing different can types
Technical Specifications
Models
LT-A18
LT-A24
LT-A36
Number of Heads
18
24
36
Production Speed
Max.120cans/min
Max.200cans/min
Max.300cans/min
Can diameter range
Φ45-Φ65 mm
Can height range
100-320mm
Inspection Range
150CC/10bar/min
Air Consumption
2.5m³/min ≥8bar
3m³/min ≥8bar
4.5m³/min ≥8bar
Power Consumption
5.5Kw
5.5Kw
6.5Kw
XinQing specializes in manufacturing and supplying can making lines and individual machines for the production of two-piece cans and three-piece cans. We are able to provide tailor-made can making equipment specific to your various applications in metal packaging and canning equipment industries. The range of our products not only the can making machine for food cans, beverage cans and aerosol cans, but also comprehensive turnkey solution. We are keen on working with customers who are looking for can making solutions to increase their productivity while reducing labor cost.