LT-F Series in-line can leakage tester for food can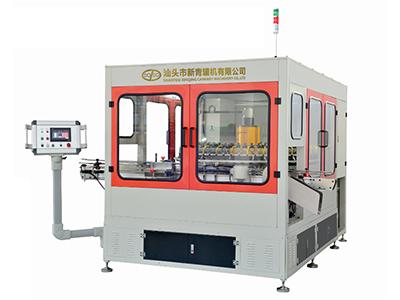 The in-line can leakage tester uses a vacuum principle to detect small cracks in the metal cans. The can leakage tester is equipped with high precision detection components with an excellent performance, allowing it to detect even the smallest of pinholes in the cans. The cam will lift empty cans and push them to the high-speed rotating vacuum sucker, which then sucks the metal cans inside using a vacuum principle. The electronic pressure detector will then detect any micro-pressure variations inside the can to determine any abnormal vacuum degree. Any abnormal cans will be rejected, ensuring the best possible can quality for further production processes.
Features
The in-line can leakage tester is equipped with a fully automatic control system for automatic online detection.
This leakage tester features a high precision pressure senor.
It is quick and easy to change the can size, and maintenance is easy.
The parameters and running speed are set on a touch screen, which also makes it easy to troubleshoot the leakage tester in the event of any problems.
The rotating disc type is optional and features an adjustable can height.
Technical Specifications
| | | |
| --- | --- | --- |
| Models | LT-F40 | LT-F60 |
| Production Speed | 480cans/min(max) | 750cans/min(max) |
| Can diameter range | Φ52-99 mm | Φ52-79 mm |
| Can height range | 60-180 mm | 60-180 mm |
| Inspection Range | ≥0.05 mm | ≥0.05 mm |
| Air Consumption | 0.6MPa 60L/min | 0.6MPa 100L/min |
| Power Consumption | 5KW | 5KW |
XinQing specializes in manufacturing and supplying can making lines and individual machines for the production of two-piece cans and three-piece cans. We are able to provide tailor-made can making equipment specific to your various applications in metal packaging and canning equipment industries. The range of our products not only the can making machine for food cans, beverage cans and aerosol cans, but also comprehensive turnkey solution. We are keen on working with customers who are looking for can making solutions to increase their productivity while reducing labor cost.