NEW DODO-300D Automatic Canbody Welder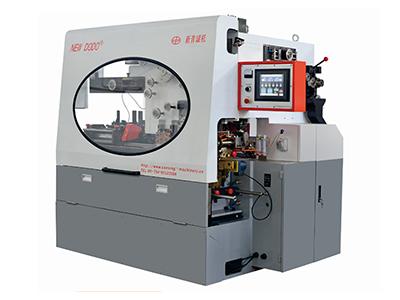 The automatic canbody welder is specially designed for the production of milk powder cans and other large cans. It is capable of completing rounding and welding processes for can production. The output of this welder is up to 250 cans/min.
Features
The automatic canbody welder is equipped with an easy to use interface, PLC system, and servo system.
Its unique static variable frequency power source provides stability and energy savings.
A special rounding device can process various types of tinplate.
The copper wire profiling roller and Z-rail are made of wear-resistant ceramics.
Mercury free welding device, remote control system and weld seam detection system are all optional.
Technical Specifications
Welding speed
36m/min(max)
Production output
can shape#401: 250cans/min(Max)
can shape502: 180cans/min(Max)
can shape#603: 150cans/min(Max)
Can inner diameter range
Φ99~Φ153mm (special Customized to Φ179mm)
Height range
65~320mm
Welding points distance
0.5~0.9mm
Overlap width
0.25~0.5mm
Sheet thickness
0.16~0.30mm
Temper
T2.5~DR8
Wire diameter
Φ1.24~1.38mm
Electrical mains
Three phase Voltage: 380V; Frequency: 50Hz; Power consumption: 30kw
Welding frequency
200-450Hz
Cooling water
>0.4MPa, 12-18℃, 40L/min
Air pressure and consumption
>600L/min, >0.6MPa
XinQing specializes in manufacturing and supplying can making lines and individual machines for the production of two-piece cans and three-piece cans. We are able to provide tailor-made can making equipment specific to your various applications in metal packaging and canning equipment industries. The range of our products not only the can making machine for food cans, beverage cans and aerosol cans, but also comprehensive turnkey solution. We are keen on working with customers who are looking for can making solutions to increase their productivity while reducing labor cost.